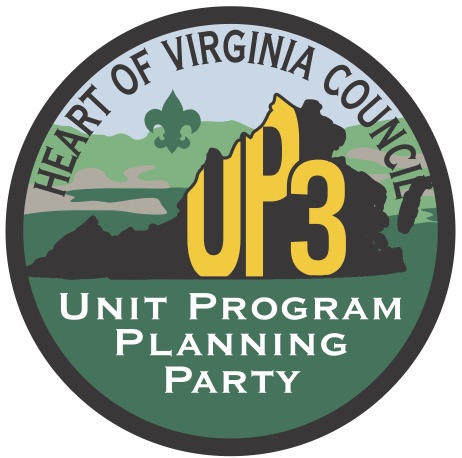 Unit Program Planning Party and Trade Show 2017!
Developing Awesome New Adventures for our Scouts every year is hard.  It's easy to fall into the trap of repetition.  Have you ever had these thoughts?
Oh look, the Flaming Arrow patrol is once again having Pop Tarts for supper, and it's my turn to eat with them.  Heartburn, here I come.

How is it that I always get stuck hauling the pinewood derby track to the school?  When will one of these Cub Dads with a pickup truck step up and volunteer to help out?

The gym floor makes my back hurts.  Why do we hold a lock-in at the church every year?

I love moving bags of mulch.  I love the constant itch I get when bits of mulch fall down my shirt.  I love taking 2 Aleve because I know how much pain I'll be in at the end of the day.  This is really fun.  This is what Scouting is all about.
Planning an exciting annual unit program can help solve these issues, and the place to get ideas and wise advice is at a UP3.   Available in each district, all UP3 events will happen during the first week of June, and uses a trade show-style format so that you can get exactly the information you need and want.  There is no fee to attend, and every participant will receive the council calendar for the 2017/2018 program year and a patch for UP3 certification.  Every unit in attendance will receive a packet of paper flyers, forms, key information, and their Journey to Excellence ribbon, if they earned one.
To receive the calendar and certification patch, you must register. 
RESERVE YOUR SPOT TODAY!
Below is the dates, times and locations for Crater District's UP3 Training:
Crater

: June 5, 7 PM, Wesley Methodist, 3701 Conduit Rd, Colonial Heights, VA 23834.
Be sure to stay for the Crackerbarrel at the end of the evening!